Wild Bill's
Culture Corner
---
Search this site useing the jump box below. Veiw covers of published work.
---
About the author...
"Wild Bill" Rogers has been riding most of his adult life. Arriving in Alaska from Florida in 1970 he quickly discovered a love for the outdoors and within a year at the age of 16 was a deck hand on a commercial fishing boat sailing out of Homer Alaska. Eventually he found a career in law enforcement and now works in private security on Alaska's North Slope. As former Co-Publisher and Editor of Midnight Sun Rider Magazine with his wife Terri, his reporting, prose and poetry were highlighted in each issue to excellent reviews.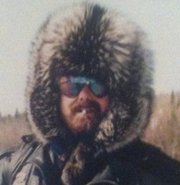 In 2008 he was the exclusive contributor to the Anchorage Press special edition of Guide to Ride. Besides the 1996 release of "Wild Bill's Culture Corner" his work has been featured in the anthologies "Rubber Side Down" and "Verse and Steal." The author has been featured on The Big Alaska Show on Anchorage Radio KFQD and performed live in Daytona, Florida and Anchorage, Alaska.